Andrew 7.3m 4-port C-Band Circular feed convert to Linear pol
Questions:
Would you be able to provide a quote for an Andrews feed for 7.3m antenna, we're looking to convert a circular feed to 4 port linear C-Band I believe the Andrew part number would be either 4LPWC-7 or 4LPNC-7 the antenna was purchased in 2004. The feed is needed at our Teleport in Europe, so please include costs for shipping to the following address.
Answers:
For us to provide anything meaningful as a quotation, we would need to better understand both the current and proposed configuration.  Does the existing antenna have the bearing integrated into the feed tube?  I.e., is the CP diplexer the only required part?
If the existing assembly does not rotate, then it becomes more complex as other provisions need to be made.  Is the antenna motorized?  Do they intend on motorizing the pol axis?  Does the existing drive system support this?
Questions:
Sorry for the delay getting back to you. Please see attached photos of the antenna and hub. The ACU is an ACS3000 so it has the option to add pol drive if those parts are available however we can work with manual pol adjustment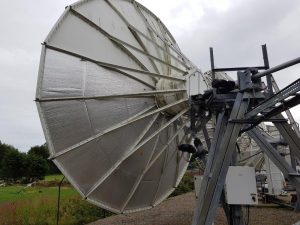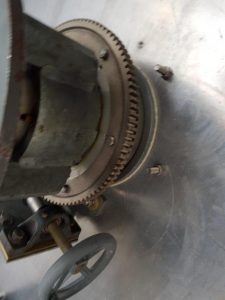 Andrew feed for 7.3M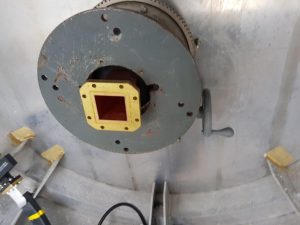 Andrew feed for 7.3M
Answers:
It looks like the feed tube is already setup to rotate, which makes things easier.  We have the ASC linear diplexer (new, old stock) that would drop in after the square to round transition is replaced.  A short circular waveguide would also be necessary to extend the pipe going to the horn (the circular waveguide used on the CP feed is shorter).    Cost for the diplexer and circular waveguide extension is $$$
If motorizing the feed in the pol axis is desired, the hub package is fairly involved.  We have one set here (new), the provides all the brackets, motor, limits and resolver that would be necessary.  It would be $$$  Any parts required for the controller or outdoor interface unit would be additional.  If the customer provides a couple photos of the outdoor cabinet board, we should be able to tell if the parts are already in place.  Alternately, they can use the manual kit that is already in place.
Alternative pricing below for FEED
For the FEED conversion to 4 port L.P. we have complete conversion kit w all hardware, combiner/diplexer network is $$$$