Description
We have been asked to help sell these antennas
Used Andrew 7.3M Ku/C-Band LP Receive Only Motorized Earth Station Antenna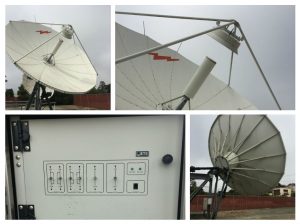 Used Andrew 7.3M C/Ku-Band Linear Rx Only Motorized Earth Station Antenna
This is a 7.3 Meter 2-Port C-Band & 2-Port Ku-Band Receive Only Motorized Antenna includes:
2-Port C-Band Linear Feed
2-Port Ku-Band Feed
Motorized with ETS AC3000 Antenna Controller
Tripod Antenna Mount
ASC Signal Andrew 7.3m Motorized Tripod Mount Earth Station Antenna
Details: The superior performance of the ASC Signal 7.3 meter earth station antenna makes it an excellent choice for high-density data, voice, communications networks and broadcast applications. The uniquely formed dual reflector Gregorian system and close-tolerance manufacturing techniques provide an extremely accurate surface contour, exceptionally high gain and closely controlled pattern characteristics. The 7.3 meter 2 or 4-port C-band INTELSAT Type Approved antennas speed system deployment. Minimal testing and decreased administrative and approval requirements translate directly to cost savings.
Used Andrew 7.3M 2-Port Ku/2-Port C-Band Linear Rx Only Motorized Earth Station Antenna